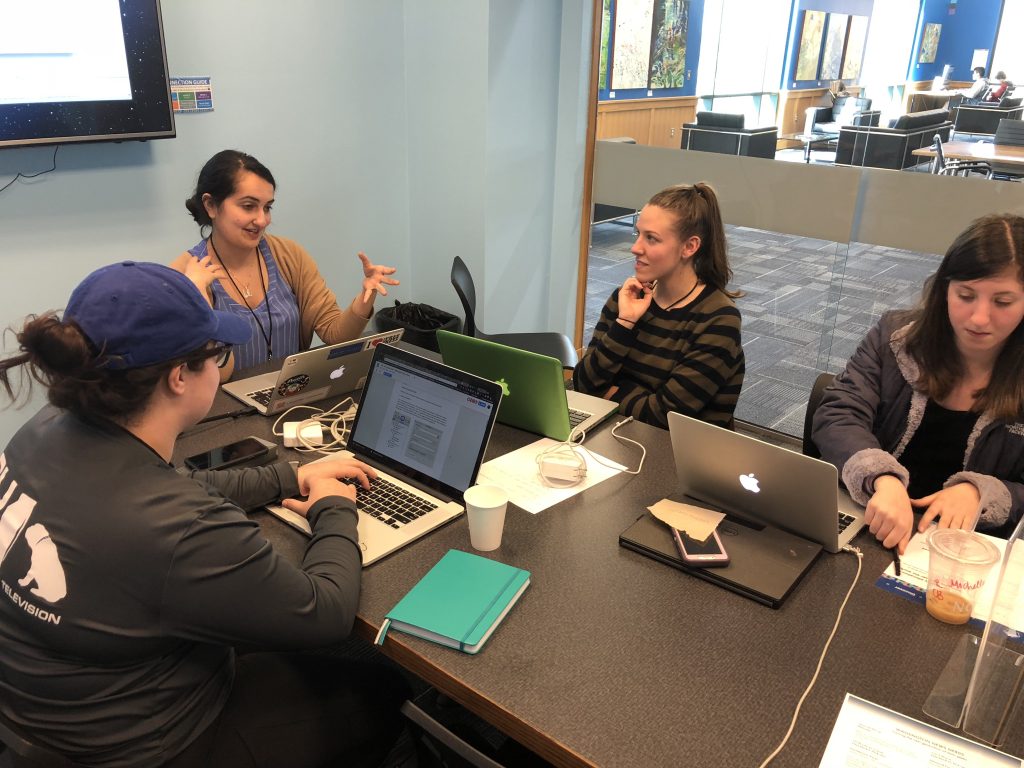 Data, public records & women of color in journalism
Continuing education & community resources
We're excited to host our third meetup for women journalists to practice data reporting, talk about the industry and learn from each other. For two years, Northwest News Nerds has given women from predominantly small and medium newsrooms a space to learn how to use data and programming in their own reporting, while building a support network of fellow women in the industry.
SATURDAY PROGRAM — 9:30 a.m. to 6 p.m.
May 25, 2019: Northwest News Nerds meetup in Vancouver
9:30 a.m. to 6 p.m., The Columbian, 701 W. 8th St., Vancouver.
Optional no-host gathering at Uptown Barrel Room, 2011 Main St., Vancouver, to follow. Bring your data so we can workshop! Or eat mozzarella sticks. Whatever you want.
The day will be divided into two types of sessions: split blocks of hard skills, like Excel formulas and skills, coding and designing data visualizations, and full-group blocks of bigger picture skills, like finding data and developing a data story.
Most sessions will use Microsoft Excel/Google Sheets. If you have Excel on your laptop, it can be easier to work in, especially for large datasets, but our curriculum should work in either program. Please make sure you have a Google account or Excel installed.
***Schedule is subject to change***
9:30 to 10 a.m.: Check in and get connected to WiFi. Organizers will be on hand to help download any software you may have missed.
10 to 10:30 a.m.: Introductions and a presentation on how to get into a data-driven frame of mind so you can make the most of the day.
10:45 to 11:45 a.m.: Skills block I
Getting started with Excel, including basic formulas and sorting with Katie Gillespie. This session is designed for people with little or no Excel experience.
OR
Data exploration in Python with Melissa Lewis.
11:45 a.m. to 1 p.m.: Lunch and panel talk on being a woman of color in the newsroom.
1 to 2 p.m.: Lecture I
Finding data using the United States Census, public records law and other handy hubs for Washington and Oregon. Rachel Alexander will lead.
2:15 to 3:15 p.m.: Skills block II
Advanced filtering and the life-changing magic of pivot tables with Katie Gillespie. You'll learn how to analyze and consolidate data to generate story ideas.
OR
The art of the join with Rachel Alexander. We'll talk about how combining multiple datasets can unlock great stories and walk through a few ways to do it, including the VLOOKUP formula in Excel and SQL/Microsoft Access. If you have Access or a SQL program, you can follow along, but those aren't required.

V Lookup data here
3:30 to 4:30 p.m.: Lecture II
4:45 to 5:45 p.m.: Skills block III
Cleaning data with string functions in Excel with Rachel Alexander. We'll show you how to use formulas to identify problems in your data and clean it up so you can start working with it.

Tipsheet/walkthrough here

Data here
OR
Basic data visualization using Tableau and (briefly) other free tools with Katie Gillespie. We'll talk about building interactive charts and maps that you can embed in your stories.
5:45 to 6 p.m.: Wrap up.
Cost
$23 for the full day for professional journalists, and $12.39 for students (including ticketing fees). Your registration includes lunch.
We want this event to be accessible regardless of income. Professional journalists who cannot get reimbursed by an employer for attending and for whom the cost is prohibitive are welcome to register as students.
We are offering a limited number of scholarships to cover travel expenses and lodging, if needed, for students traveling to attend the event. If you'd like more information, contact us at northwestnewsnerds@gmail.com.
Sign up
Any woman or non-binary person working in journalism or related fields is welcome to attend. Register here by May 10, 2019.
Space is limited - registration is first-come, first-served.
Logistics
The meetup will run from 10 a.m. to 6 p.m. Saturday at The Columbian in Vancouver, Wash., 701 W 8th St.
The venue is walking distance from a number of downtown hotels, and several blocks away from public transportation options. Free parking is available in The Columbian's lot due east of the building.
The venue is wheelchair accessible.
If you have questions, please contact Katie Gillespie and Rachel Alexander at northwestnewsnerds@gmail.com